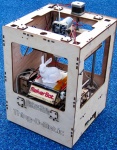 3-D printers, which allow their owners to create plastic objects, are proliferating as prices on the high tech units have come down to around $1,000. Within a few years they will undoubtedly be integrated with scanners, which will allow consumers to create plastic copies of all sorts of objects. Manufacturers are not pleased at the prospect that their products could be copied, and Games Workshop, the leading manufacturer of tabletop war games, has already taken action against consumer-created objects that the company says infringe on its intellectual property rights.
Wired Magazine
reports that Games Workshop has already taken action to remove posted files created by Thomas Valenty, who purchased a MakerBot 3-D printer last year and proceeded to create a couple of
Warhammer
-like figures, a two-legged war mecha and a tank. Valenty posted his designs of Thingiverse, a site where owners of 3-D printers (or those with access to them) can post and share instructions for creating various 3-D objects. Games Workshop served Thingiverse with a "takedown notice" under the Digital Millennium Copyright Act and the site has removed Valenty's designs.
Since Valenty's designs were in the Warhammer style rather than actual copies of existing figures, there is no telling what the outcome of this case would be if it were adjudicated. 3-D printing is cutting edge technology and legal experts are not sure exactly what laws apply to the new field. In the past disputes over copying physical objects were often decided using patent statutes, which, given the 20-year patent expiration, are far less encompassing than copyright laws. If 3-D printers do proliferate as expected, look for manufacturers to lobby hard for copyright laws to apply.
Obviously copying figures with logos or other proprietary designs on them would likely be a "no-no," and this could result in more assiduous efforts on the part of manufacturers to "brand" their items in ways that make replication difficult.
This new technology could also have implications for pop culture conventions where copyright owners are already cracking down on artists selling prints or merchandise that feature copyrighted characters. There is a growing trend of creating short-run collectibles for sale at "Artists' Alleys" at conventions (see "
2000 Trend Fuels Friedrich Controversy
"), and a judge already ruled that
Ghost Rider
creator Gary Friedrich owes Marvel $17K in royalties on merchandise that he sold at shows (see "
Ghost Rider Creator Owes Marvel $17 Grand
").