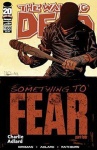 Yesterday was the final order cut-off for the special 100th issue of Robert Kirkman's The Walking Dead and speculation is already rampant that the anniversary issue, with its nine variant covers, will top 300,000, which would make it the bestselling comic since Amazing Spider-Man #583 (the "Obama Inauguration" issue) back in January of 2009, which had initial orders of over 350K.
Bleeding Cool
cited inside sources for its estimate of over 300,000 and the typically reliable
Comic Book Resource
site confirmed the mammoth number with its own insider's estimate of 330,000 copies for the initial orders, which would make it not only the #1 comic in July, but, in terms of initial orders at least, the bestselling book since 2009.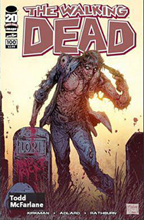 Interest in
The Walking Dead
comic book series has been growing as the TV show sets all sort of basic cable records. The circulation of the comic rose from 36,931 in April to
53,733 in May, and off course, the $3.99 #100 anniversary issue will be even more of a collectors item. The final tally for the book will include all of the eight regular vriant covers (as well as the 1:200 black & white wraparound variant). It will not include the $9.95 Chromium Cover Variant, but that shouldn't keep The Walking Dead #100 from being the bestselling comic of 2012 so far.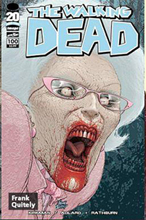 How many readers (or purchasers) will that estimated 330,000 circulation represent? Several retailers contacted by ICv2 report that they have been successful in interesting their customers in purchasing sets featuring all or most of the variant covers.
Keep in mind that the 300k+ number undoubtedly includes all territories and channels, which would make it larger than the numbers typically reported in the Top 300 Comics charts, which are based on U.S. sales only.