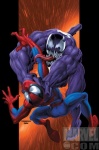 Marvel has announced that its next quickie reprint, Marvel Must-Have: Ultimate Venom, will reprint four consecutive issues of Ultimate Spider-Man, #33-#36. These four issues are the first four parts of a six-issue Venom storyline, which will continue in Ultimate Spider-Man #37, which streets March 5. Marvel Must-Have: Ultimate Venom will street February 26 at $3.99.
In the past, Marvel has used its Must-Have reprint packages to make high-demand, out-of-print issues available, but has generally done so by packaging the high-demand issue with other editorial material from different titles that it wants readers to see.

This represents a further evolution of the Marvel 'no-reprint' strategy, and brings it closer to the policies of its competitors.

While it is still not reprinting sold-out comics in their original formats, it is reprinting the material that consumers want, without requiring them to buy additional stories that are not of central interest.