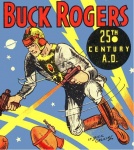 The Hermes Press has been reprinting the classic Buck Rogers comic strip in archival hardcover editions for nearly five years, but the publisher is about to take its relationship with the seminal science fiction franchise in a different direction with an all new comic book series that will be written and drawn by Howard Chaykin. Chaykin has created a new Buck Rogers poster featuring Buck and Wilma Deering that will be given away for free to those attending a "Buck Rogers: Past, Present, and Future" panel that will be held on Friday, July 13th from 6-7pm in Room 4.
The
Buck Rogers
comic strip debuted during the first week of 1929 and was a key influence on an entire generation of science fiction (see "
Ray Bradbury Dies at 91
") and comic strip (as well as comic book) creators. According to Hermes Press publisher Dan Herman, Chaykin's new series will take the property back to its roots and will have the look and feel of the original.
Chaykin, who has proven to be equally adept at cutting edge titles such as American Flagg as well as with revival's of classic pulp-based characters such as The Shadow, appears to be the perfect choice for the new Buck Rogers comic book series, and he is clearly jazzed about getting the opportunity: "When Dan casually asked me whether I had any interest in reviving Buck Rogers, my reaction was first physical--genuine goose bumps--followed by complete delight at the thought of paying back a concept that was so utterly seminal in my thinking about our medium and our field."