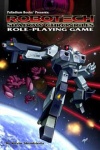 The long-time publisher of the Robotech role-playing game, Palladium Books, has announced a new license with Harmony Gold USA, Inc., which will include the rights to produce and sell pewter miniatures based on the Robotech property.
The company plans to produce and release both mecha and spaceships based on the Robotech anime. The models will be produced in 1/285 scale, and are expected to release sometime in 2013.
Palladium is currently negotiating with sculptors and manufacturers of metal miniatures. The specific models and release schedule have not yet been determined.
The new license with Harmony Gold will also allow Palladium to produce new Robotech sourcebooks. Plans include the 96-page Genesis Pits Sourcebook for Fall 2012, as well as two new sourcebooks written by Irvin Jackson for next year.