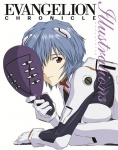 UDON has announced a new "anime art book initiative" that will bring English-language art collections to anime fans.
Collecting all the original artwork from the
Evangelion
Chronicle
encyclopedia series,
Evangelion Chronicle: Illustrations
($39.99, 136 pgs.), set for release November 12th, also features new pieces produced exclusively for this volume. Rough sketches and creator commentary round out the book, which gives readers a behind-the-scenes glimpse into the apocalyptic world of
Neon Genesis Evangelion
.
Evangelion
will also be getting attention in November when Viz releases the new volume of the NGE manga day and date with its release in Japan (see "
Viz to Publish 'NGE' Same Day as Japan
").
Evangelion Chronicle: Side A covers the first 13 episodes of the Neon Genesis Evangelion TV series while Evangelion Chronicle: Side B covers episodes 14-26, plus original movies. Scheduled for release in 2013, the books will feature original art, a character relationship chart, character and EVA profiles, a timeline, and an episode guide with checkpoints covering each Angel, weapon, vehicle, and character appearance.
In December, UDON will release Read or Die: R.O.D. Official Archive ($39.99, 128 pgs.), which is a guide to both the original three-episode OVA (original video animation) and the 26-episode television series. The Read or Die anime, which is based on the manga series created by Hideyuki Kurata, chronicles the adventures of Yomiko Readman and the British Library Special Operations Division, a secret group dedicated to the location and protection of rare books.
In 2013, UDON will release Haruhi-ism, the first in a series of art books based on The Melancholy of Haruhi Suzumiya anime/manga/novel series, which tells the story of a school girl who creates a club to investigate alien and supernatural phenomena. The book will feature the work of illustrator Noizi Ito.
Also for 2013: Featuring story and art by Shin Sasaki, the Disgaea manga furthers the story of Disgaea, in which Laharl, the newly crowned King of the Netherworld, rules his kingdom with the help of a demon-girl named Etna and the angel-ditz Flonne. Disgaea began as a videogame property with Disgaea: Hour of Darkness (2003) for the PlayStation 2 and has had several videogame sequels, along with a number of anime and manga installments.