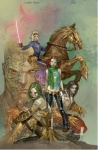 Top Cow Production's Matt Hawkins contacted ICv2 to give us more information on the company's retailer program for its
Cyber Force
relaunch promotion, which involves a Kickstarter project to support the creation of the books (see "
'Cyber Force' Relaunch Free
"). Retailers will be charged $.25 each for the first five issues of the new series, which are to be given away free, but will receive incentive variants to help offset the cost of the free copies. There are two levels of variant incentives: two free Mark Sylvestri variant covers (suggested retail $10) with 50 copies of
Cyber Force
#1, and a free variant cover by Stjepan Sejic for (suggested retail $20) with 100 copies of
Cyber Force
#1.
At those suggested retail prices for the variants, Hawkins explained, a retailer will get $20 worth of variants for spending $12.50 on free copies to give away, and get $60 worth of variants for spending $25 on free copies to give away.
Although the variant incentive program appeared on the original solicits created by Top Cow (which Hawkins sent us), they did not make it into the retailer ordering information tied to the August
Previews,
which led retailers (understandably) to object to the concept of buying comics to give away (see, for example, the Talk Back "
L.E. Becker of Warp 9 on 'Cyber Force' Kickstarter
"). Corrected information is going out soon.