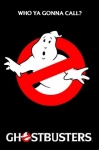 Bill Murray will not be involved in the long-gestating
Ghostbusters 3
project according to writer/producer/star Dan Ackroyd, who told the U.K.'s
Metro.co site
that "It's sad, but we are passing it on to a new generation." In spite of the fact that old
Ghostbusters
gang won't be reuniting on screen, Ackroyd believes that
Ghostbusters 3
can be a success without Murray, and that he's "confident we'll be in production in the next year."
Ackroyd confidence is based on that fact that "now we've got a studio on our side." He noted, "We've got a brilliant new writer on it, and we'll be passing the torch on to a new generation." He acknowledged that previous attempts to get Ghostbusters 3 going were marred by "concepts that weren't right," but he feels that "now we've got a good structure and will make it happen."
Earlier this year Ackroyd noted that Murray, whose interests increasingly appear to be limited to quirky independent films like Wes Anderson's
Moonrise Kingdom
, was unwilling to participate in a third
Ghostbusters
film, which he then stated was "in a state of suspended animation" (see "
Bill Murray Will Not Do the Movie
"), but it is clear that there has been considerable movement toward a very different version of
Ghostbusters 3.
Of course there is no guarantee that the new Ghostbusters 3: The Next Generation will get made, but at least it does appear that the project is showing signs that it may yet emerge from cinematic limbo.