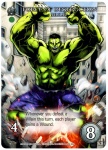 Upper Deck will release Legendary (working title), a deckbuilding game set in the Marvel universe and designed by Devin Low, formerly head developer of Magic: The Gathering, in November. The game will include over 500 cards, a full color game board and color rule book, all sold together in a single package. The art for all the cards and the packaging will be new, original art created for the game. It's described as easy to learn and fast-paced, with high replayability.
Each player will start with a basic deck, then add new Marvel characters, such as Spider-Man, Wolverine, and Iron Man, throughout the game to become more and more powerful. Unlike other deckbuilding games, the game fights back, with Masterminds like Magneto, Loki, or Dr. Doom working to defeat all the players at once. The Mastermind is different for each game, pursuing a different Scheme with different rules. Players will create their own combos on the fly, and use them to battle supervillains such as Venom, Mystique, Sabretooth, and Dr. Octopus.
Upper Deck has a TCG based on
Marvel Super Hero Squad
in the market (see "
'Marvel Super Hero Squad TCG' Tournament
"), directed at fairly young gamers. This new deckbuilding game appears to target an older demo, utilizing the full pantheon of Marvel heroes and villains in the process.