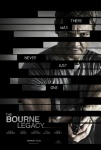 Universal's reboot of its Bourne franchise starring Jeremy Renner, The Bourne Legacy, topped the weekend box office with an estimated $40.2 million. The Will Ferrell/Zach Galifianakis comedy The Campaign took second with an estimated $27.4 million, well ahead of The Dark Knight Rises, which brought in $19.54 million in its fourth weekend. Overall the box office was up slightly as the top 12 films earned an estimated $138.3 million, up 6.6% from the same weekend last year when Rise of the Planet of the Apes topped the box office for the second week in a row as it earned $27.8 million.
Universal not only replaced Matt Damon with Renner, director Paul Greenglass stepped aside for Tony Gilroy, who wrote the screenplays for the two previous Bourne films, both of which opened considerably higher with 2007's The Bourne Ultimatum at $69.3 million and 2004's The Bourne Supremacy at $52.5 million. Still, with a cost of just $125 million, The Bourne Legacy appears well on its way to rebooting the action/espionage franchise, though its performance outside North America will be its key to profitability. So far the film has performed well in 13 small overseas territories, but the Olympics has produced a sort of a glut of films as studios sought to avoid competing with the global sports extravaganza. This means that The Bourne Legacy should face more competition than usual in foreign markets over the coming weeks.
Weekend Box Office (Studio Estimates): August 10-12, 2012

Film

Weekend Gross

Screens

Avg./

Screen

Total Gross

Wk#

1

The Bourne Legacy

$40,265,000

3,745

$10,752

$40,265,000

1

2

The Campaign

$27,440,000

3,205

$8,562

$27,440,000

1

3

The Dark Knight Rises

$19,540,000

3,690

$5,295

$390,149,000

4

4

Hope Springs

$15,600,000

2,361

$6,607

$20,053,000

1

5

Diary of a Wimpy Kid: Dog Days

$8,200,000

3,398

$2,413

$30,554,000

2

6

Total Recall

$8,100,000

3,601

$2,249

$44,188,000

2

7

Ice Age: Continental Drift

$6,750,000

3,102

$2,176

$144,064,000

5

8

Ted

$3,290,000

2,208

$1,490

$209,915,000

7

9

Step Up Revolution

$2,850,000

1,898

$1,502

$30,165,000

3

10

The Amazing Spider-Man

$2,200,000

1,585

$1,388

$255,543,000

6

10

The Watch

$2,200,000

2,461

$894

$31,374,000

3
The debut weekend audience for the PG-13 rated The Bourne Legacy was older with close to 70% of the audience over 30, and they gave the film a mediocre "B" CinemaScore, which could hurt its chances of repeating as box office champ.
Although the critics preferred the Will Ferrell/Zach Galifianakis' The Campaign (67% positive rating on Rotten Tomatoes) to The Bourne Legacy (53% positive), debut weekend audiences gave the political satire a poor "B-" CinemaScore, even worse than the "B" earned by The Bourne Legacy. Not surprisingly for an "R" rated comedy, 64% of the audience for The Campaign was over 25.
Christopher Nolan's The Dark Knight Rises dropped 45% from its chart-topping third weekend performance. The megahit Batpic, which cost a mammoth $250 million to produce, has now earned $390.1 million domestically and should pass The Hunger Games' $407.3 million this week to become the second-highest grossing film of 2012. It has no chance of catching The Avengers, which has now earned $617.3 million. Nolan's final Batman movie has earned almost as much overseas as it has domestically, but it has more potential outside of North America now, since its worldwide rollout was delayed somewhat due to the Olympics.
Another newcomer, the geriatric romance drama Hope Springs starring Meryl Streep and Tommy Lee Jones, came in fourth, with an estimated $15.6 million. As might be expected over 65% of the audience for Hope Springs was female and 70% was over 40. Despite a lofty rating from the critics (74% positive on Rotten Tomatoes), Hope Springs could only manage a mediocre "B" CinemaScore from its opening weekend audiences.
Fox's Diary of a Wimpy Kid: Dog Days, which is based on Jeff Kinney's YA quasi-graphic novel, fell to fifth in its second weekend as it dropped 44% and earned an estimated $8.2 million. The $22 million production has now earned $30.5 million thanks to steady weekday business.
The prospects for profitability are not nearly as bright for Sony's remake of Total Recall, which plummeted 68.3% in its second weekend, a steep drop even by today's standards. So far the $125 million production has earned $42.2 million here in North America. Its big hope will be overseas and the next few weeks should prove to be crucial.
Fox's Ice Age: Continental Drift slipped just 22% as it fell to #7 in its fifth weekend. The film has now earned $144 million and could finish as high as $175 million domestically, though it has already done far better than that overseas where it has earned $620.5 million.
Seth McFarlane's "R" rated Ted slipped just 42% as it finished at #8 in its 7th weekend as it earned $3.3 million and brought its domestic total to $209.9 million, marking it as the "R" rated comedy hit of the year.
Sony's Spider-Man reboot, The Amazing Spider-Man, tied for tenth in its sixth weekend as it earned an estimated $2.2 million and brought its domestic total to $255.5 million. The $230 million production has earned a whopping 63% of its worldwide total of $690.6 million overseas.
Check back next week to see if The Bourne Legacy can defend its title against a full slate of newcomers headed by The Expendables 2, the sequel to the "Geri-Action" subgenre-establishing film starring Sly Stallone and a slew of semi-senescent action movie heroes, and the heavily-advertised animated feature ParaNorman.