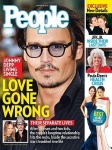 Newsstand sales of magazines dropped 9.6% in the first half of 2012 compared to the same period last year, as reported by Audit Bureau of Circulation via the
New York Times
. Top 25 newsstand magazines had a wide range of sales changes (as reported on the ABC site), but many industry stalwarts, such as
Cosmopolitan
(down 15.5%),
People
(down 18.6%),
Star
(down 14.2%),
Vogue
(down 16.5%) and
Vanity Fair
(down 18.8%), were down by major double digit percentages.
The newsstand sales declines were offset by increases in subscription sales; over-all circulations were down a scant 0.1%. Subscription sales are easier to control using price, and promotional and advertising support.
Regardless, publishers and retailers can't be happy about the continued declines in newsstand sales. Magazines are in a tough place right now, with the Web able to deliver news and features faster and more economically than print, and household budgets crimped by a bad economy. Losing 600 Borders stores vs. the year ago period also didn't help.
Digital sales more than doubled, according to the ABC, but still accounted for only about 2% of circulation, offsetting only a small part of the newsstand decline.
Ad sales are also a problem, with ad sales down 8.8% year to date vs. the year ago period according to the
New York Times
.