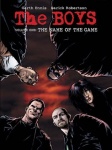 Earlier this year it appeared that there was little chance that Garth Ennis and Darick Robertson's superhero action satire
The Boys
would make it to the big screen after Columbia, which had been developing the property since 2008, pulled the plug on the project which director Adam McCay (
Anchorman
) was developing (see "
Columbia Whacks 'The Boys'
").
The project then went into the dreaded "turnaround" with McKay shopping it to other studios, who typically have to pick up some of the developmental expenses already incurred by Columbia if they want to develop the property. A small percentage of film projects typically escape turnaround, and it appears that The Boys may have managed that feat of developmental legerdemain. Over the weekend McKay tweeted: "Actually Paramount picked it up and we're still developing."
Now their could be some complications since McKay removed his tweet from his twitter stream, though a fan whose question prompted McKay's response kept the exchange up on his
twitter stream
.