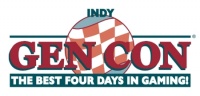 A record-breaking Gen Con wrapped up Sunday in Indianapolis, with a bigger Trade Day, larger exhibit hall, more gaming space, and expected higher attendance than any previous year. The show started strong with a bigger Trade Day on Wednesday; 232 badges were issued to retailers, librarians and educators, a respectable number.
Retailers also had a new spot off the floor to meet with suppliers and each other: a retailer lounge. This was the first year with a retailer lounge area since 2008 (see "
GAMA to Sponsor Retailer Lounge
").
The consumer show was able to grow in a newly expanded, more spacious Indiana Convention Center, which has grown to 791,000 square feet of dedicated space (not including hallways, lobbies, or concourses. Gen Con occupied 676,000 square feet of that space, or over 85% of the expanded space. Exhibit space, which was up 12%, was sold out well before the show. The number of exhibitors grew to 315, and "there was a waiting list 40 deep after that," Gen Con Senior Marketing Communication Manager Jake Theis said. Gaming space was also expanded.
Although final attendance was not tallied in time for this article, advance registration was up 10% year over year, Theis told us, and attendance was "on pace to break records." Last year's show drew over 36,000 unique attendees (see "
Gen Con Indy Sets New Attendance Records
").
Theis listed four reasons for the record show. One was social media. "One of the most potent things we've seen for marketing outreach has been social media," he said. "We had 600,000 people check the Facebook site this week for information."
Another was the mainstreaming of geek culture. "If you look at the top movies of the summer, seeing that Dark Knight, Spider-man, and Avengers are the top three movies, and Hunger Games is up in that mix as well, geek culture is becoming more mainstream and becoming more popular, and that audience is starting to grow."
Local awareness has also been growing, Theis said. "A lot of people locally are finding out and telling us that this year is the first time they've heard about Gen Con. Or they've seen people in the streets and heard about Gen Con but didn't really understand the scope or what it's about. They're finding out there's a costume contest, a zombie walk, a film festival, all things that are outside of core gaming."
And then perhaps most importantly, the hobby game business is growing (see "
Hobby Games 'Explosive'
"). "Core gaming is popular;
Magic
is doing extremely well;
Settlers of Catan
is strong," Theis said.
Exhibitors we spoke to were universally happy with their sales on the floor; both new games and old were selling well.
The show went back to its roots in one way this year; one of the biggest topics of discussion was Dungeons and Dragons Next, currently in beta test and the subject of the Wizards of the Coast Keynote Address on Thursday night (more on that separately).
Watch for our show photos and full coverage of the news released at the show soon!