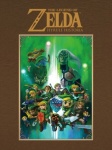 Dark Horse Books, in cooperation with Nintendo, will release The Legend of Zelda: Hyrule Historia ($34.99), a 272-page hardcover chronicling the history of the popular Legend of Zelda action/RPG franchise, on January 29th. After only five days of taking pre-orders, the volume profiling the Zelda property, now in its 25th year, is #1 on Amazon's book bestseller list, topping erotic bestseller Fifty Shades of Grey. This portends an opportunity to sell huge volume when the book is released in January.
Introduced by Shigeru Miyamoto, designer of such influential video games as Donkey Kong (1981), Super Mario Bros. (1985), and The Legend of Zelda (1987), Hyrule Historia contains such material as the official chronology of the Zelda games, the full history of Hyrule, the official Zelda timeline, never-before-seen concept art (including the development of Link in Twilight Princess), and the visual design progression of Link and Zelda from the beginning to the present.
First published in Japan in 2011, Hyrule Historia also features a special bonus: 32 pages of theSkyward Sword manga by Akira Himekawa. Commentary from various Zelda creators is included as well.
--Brett Weiss