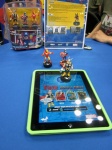 MFV was showing off its new HeroClix TabApp, which combines the use of HeroClix figures with iPad play, at last week's Gen Con game fair. ICv2 caught up with Tricia Jenkins, Senior Marketing Communications Manager, and Sara Jenkins, Director of Marketing and Biz Dev for MFV to get more details about the new product line.
The HeroClix TabApp uses a figure recognition system to combine special HeroClix figures with a digital gameplay environment on the iPad. Jenkins explains:
"Essentially, your iPad becomes your board. On the bottom of each figure there's a little series of touch pads. Each one has a unique pattern, and that's how it recognizes the figure. So, when you place the figure down on your iPad, it unlocks content based on that figure."
The game is scenario based, and offers three different unlockable scenarios with three difficulty levels for each figure. The scenarios are story-based, with comic panels that pop-up to allow the player to follow the character's story. All of the scenario storylines are original content created for the game.
The TabApp will be available free from the iPad App Store starting next month. The special figures launch at Toys'r'Us in September, followed by distribution Walmart, Target, and hobby retailers. Initially, two packs will be available, both featuring Marvel comic book characters: the Super Heroes set and the Wolverine set. Two packs of DC characters are planned for a future release. Each non-random figure pack will include three different figures and will have a suggested retail price of $14.99.