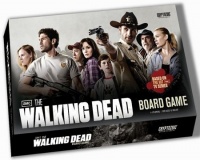 We caught up with Cryptozoic Chief Operating Officer Scott Gaeta recently and asked him about the company's big sellers this summer, along with what's coming from Cryptozoic Entertainment.
What's this year been like for Cryptozoic and what were some of your big sellers?
So far this year the big growth has been in the board game space. Walking Dead has been our biggest seller so far to date. We're going into our fifth printing for the Walking Dead board game. Big Bang Theory was our next biggest hit. That's going into the third printing and distribution has really opened up on that.
Our next breakout hit that we weren't expecting was Epic Spell Wars of the Battle Wizards. That's a hobby-only type of game and that's really developed a cult following. We're going into our second printing on that. We're out right now and the second print hits sometime around October. We've really been pleasantly surprised. People have really latched onto that game and think it's a lot of fun. We get a lot of comments from people that this is the game that they play in between their big roleplaying sessions or in between their other stuff. We're starting to work on a sequel to that game for some time next year.
Of your original I.P. has that been your most successful?
Yes, Epic Spell Wars has been our most successful original.
Can you tell us total print run so far on The Walking Dead and Big Bang Theory?
Our standard print runs for games of that caliber are about 20,000 copies per run, so coming into our fifth print run of Walking Dead we're hitting 100,000 units this year. And on Big Bang Theory we're in our third printing so we'll be at around 60,000 copies.
You said on Big Bang that distribution had "opened up." What do you mean by that?
Outside of the standard hobby distribution channel and Barnes and Noble. Now Big Bang is going to be in Target and Wal-Mart.
Big Bang isn't at those retailers yet?
It will be there around October.
Over the next six months or so, what you most looking forward to?
Two big things for us in the next six months. Number one is the
DC Comics Deck Building
Game
that we have coming out (see "
DC Comics Deckbuilding Game
"). That hits in November and then after that
The Hobbit
(we have a number of different things). We have a board game coming out for
The Hobbit
that Reiner Knizia designed for us. We also have a
Hobbit
deck building game coming out next year and then a
Hobbit
expandable card game coming out that will actually tie in all the Middle-Earth properties. We'll be going back to old
Lord of the Rings
content as well in that game (see "
Six 'Hobbit' and 'LOTR' Games
").
And when's that coming out?
All of that comes out anytime between the movie and the first quarter. Right now it's kind of a moving target because of the third movie being added. So all the licensees are trying to figure it out while Peter [Jackson] figures how he's moving content around. We've gotten some information for some key things that have moved but not 100% of the details yet. So it's a little bit of a moving target.
Does that mean that there were things that were going to be included in the first movie that now aren't?
Yes, that's correct.
It's August!
It's August. Tell me about it. Our Reiner game, for example, was a part one and part two game based on the two Hobbit films. It tells the story of The Hobbit; it's a cooperative game. And now it will be three games so we're shuffling some stuff around. We already had the first two games developed so it's really not the end of the world, it's just more of a wait and see so we have to hurry up and wait.
And the game you started with, what's going on with World of Warcraft?
It's doing very well. Distribution is going strong. Probably the big thing that just changed with World of Warcraft is we're launching sneak preview events in hobby stores. Any hobby store can run sneak preview events as long as they've been sanctioning and running regular Battleground events with us. So if they have a track record of running regular tournaments in the store, they're eligible to run sneak previews and we have a handful of distributors who are handling the sneak preview distribution for us.
What's going on with comics at Cryptozoic?
Our first comic that we just launched in connection with Penny Arcade guys is called The Lookouts. The best way to describe The Lookouts is high fantasy Boy Scouts. The first six-issue arc is all about the boys earning their honor badge for riddles. If you've read the first issue, they encounter a sphinx and maybe they're not quite ready for that yet, so they're going to try to get some practice with a troll and work their way up.
We just launched it digitally and it's launching in comic book stores soon. What we decided to do was overship one for one for all the retailers that ordered Lookouts #1 and we're going to give them a free copy to sell. We really believe in the title--it's a great read, it's good for all ages and we want to make sure there are copies on the stands and they're available when issue #2 comes out.
When is that shipping?
Issue #1 ships in September and issue #2 comes out in November. It will be monthly after that.