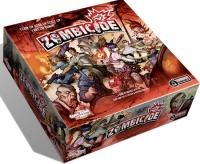 CoolMiniOrNot, which distributes Guillotine Games here in the U.S., has informed ICv2 that Zombicide (MSRP $99.99), a cooperative boardgame that comes with 71 miniatures, will be released later this month. Created by Guillotine Games, which was formed by former employees of Rackham Entertainment, Zombicide is a fun and easy game of "survival horror" that can be played in as few as 20 minutes (using the beginner's version of the board) or extended to up to three hours (when employing the expert configuration of the board).
Zombicide can be played by from two-to-six players (ages 13 and up) who take on the roles of "survivors" and who work together to hold off the zombie hordes. The game includes 10 pre-designed scenarios, and players can also use their imaginations to create their own sagas using the modular map tiles. But players must also be on the lookout for any signs of infection among their allies, who can turn from friends to enemies with alacrity.
The Zombicide game includes: 71 miniatures produced in the 28 mm "Heroic" scale (6 survivors, 40 walkers, 16 runners, 8 fatties, and 1 abomination); 110 cards (42 zombie cards, 62 equipment cards, and 6 wounded cards); 9 gaming tiles; 6 dice; 6 survivor identity cards; 24 advancement cards; 4 car tokens; 18 noise tokens; 10 objective tokens; 12 door tokens; 6 zombie spawn tokens; 1 "first player" token; and 1 exit point token.