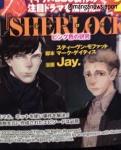 The BBC's highly successful Sherlock series, which re-imagines Conan Doyle's super sleuth in today's London of laptops, smartphones, and advanced forensics, is getting a manga adaptation that will debut in the October 4th issue of Young Ace, a seinen manga anthology magazine published by Kadokawa Shoten.
The BBC series, which currently consists of two seasons, each of which included three 90-minute dramas, has been a worldwide hit, and its stars have parlayed that success into high profile roles in other projects. Benedict Cumberbatch, who plays Sherlock, will portray the villain in J.J. Abram's
Star Trek
sequel (see "
Bones Reveals 'Star Trek' Sequel's Villain
"), while Martin Freeman, who plays Doctor Watson, will be Bilbo Baggins in Peter Jackson's eagerly-awaited
Hobbit Trilogy
(see "
'Hobbit' Casting
").
According to
The Anime News Network
, the
Young Ace
adaptation of
Sherlock
is the work of a manga creator who goes by the name of "Jay." Jay's first
Sherlock
manga story will be an adaptation of "A Study in Pink," the first episode of the BBC's
Sherlock
. So far no U.S. publisher has announced plans to reprint the
Sherlock
manga, though that may well change if the project is a hit in Japan.