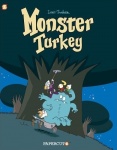 Monster Graphic Novels: Monster Turkey HC
Publisher: Papercutz
Release Date: October 2, 2012
Price: $9.99
Creator: Louis Trondheim
Format: 32 pgs., Full-Color, Hardcover
Age Ratings: 6 and up
ISBN: 978-1-5970-7349-3
ICv2 Ratings: 4 Stars out of 5
In the fourth installment of Lewis Trondheim's
Monster
series, the story of an 'ordinary' family that has a monster for a pet, Mom, Dad, Petey, Jean and Kriss (their monster) are off to the country for a nice, quiet family vacation. At first it's a lot of fun, that is until they're attacked by monstrous farm animals who aren't nearly as nice as Kriss.
With its lack of word balloons and blocks of text and color illustrations Monster Turkey seems, to me anyway, to be more like a children's book than a graphic novel. But whatever you want to call it, prolific French cartoonist Trondheim frequently slides some slyly funny commentary on the action into that text. And he also provides some deft cartooning which really brings to life the author's bird-like family; if I was going to hazard a guess I'd say they were supposed to be chickens, though Dad looks a bit more like a parrot.
Considering that it's primarily for kids and the short page count, the plot is simple enough, taking the stereotypes and tropes from old monster movies and giving them some nice post-modern twists. Some of the jokes will most likely sail over the heads of the littlest readers but they'll no doubt love the action and all of Kriss' antics. But adults should also enjoy this one just as much, whether they're reading it aloud to their children or to themselves.
--
Steve Bennett: Writer and retail services consultant.