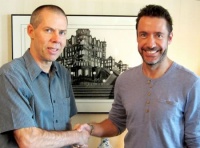 On his way to the New York Comic Con, IDW Publishing CEO and Publisher Ted Adams stopped in Kitchener, Ontario to check on the progress of IDW's The Cerebus Covers collection, and ended up giving Cerebus creator Dave Sim a $30,000 check for the comic store rights for five years to the collected High Society Audio Digital DVD edition, which begins its serialization tonight (Issue #26 is a free download and #27 will be available for 99 cents).
The new deal was reported on the authoritative
A Moment of Cerebus
blog, which includes a photo of Sim shaking hands on the deal with Adams. It comes as a sort of strange counterpoint to
a very public negotiation
between Sim and Kim Thompson of Fantagraphics over the rights to publish the
Cerebus
saga in a series of hardcovers.
IDW Publishing has not formally announced the debut of the comic shop DVD version of High Society yet, but The Cerebus Covers project has now grown to somewhere between two and four hardcover volumes, which IDW will be publishing in 2013-2014.