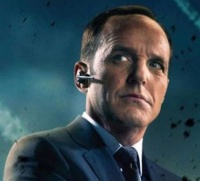 NYCC News: At the Marvel TV panel at the New York Comic Con Joss Whedon appeared via video to announce that he and Marvel are developing a live-action S.H.I.E.L.D. TV series, and that Clark Gregg, who plays Agent Phil Coulson in the Marvel movies (and shorts), will be, according to Whedon, "headlining the S.H.I.E.L.D. show and always was."
No word on how Coulson, who made an appearance at the NYCC panel, will be brought back from the dead (it certainly appeared that Loki dispatched Agent Coulson to his final reward in
The Avengers
). Marvel's Jeph Loeb would only say that Joss Whedon was writing the script for the
S.H.I.E.L.D.
pilot with his usual crew that includes his brother Jed Whedon and Jed's wife Maurissa Tancharoen.
ABC has already ordered a pilot episode of the new Whedon-penned
S.H.I.E.L.D.
TV series (see "
ABC Orders Whedon's S.H.I.E.L.D. Pilot
"). If there are no major problems with the script, it could possibly go into production early in 2013 and make the next "pilot" season.