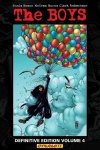 The Boys Definitive Edition Vol. 4 HC
Publisher: Dynamite Entertainment
Release Date: October 24, 2012
Cover Price: $95.00
Writer: Garth Ennis
Artist: Darick Robertson, Russ Braun, John McCrea and Keith Burns
Cover: Darick Robertson
Format: 400 pgs., Full-Color, Hardcover
Rating: Mature
In a world where costumed heroes soar through the sky and masked vigilantes prowl the night, someone's got to make sure the "supes" don't get out of line. And someone will. Billy Butcher, Wee Hughie, Mother's Milk, The Frenchman and The Female are The Boys: a CIA-backed team of very dangerous people, each one dedicated to the struggle against the most lethal force on Earth- superpower. Some superheroes have to be watched. Some have to be controlled. And some of them—sometimes--need to be taken out of the picture. That's when you call in The Boys.
This volume collects The Boys #39-47 and The Boys: Highland Laddie #1-6 and includes the stories:
• What I Know
• The Innocents
• Believe
• Highland Laddie
Loaded with bonus materials including:

• Introduction by Joe Rybandt
• Garth Ennis' script to The Boys #41
• Sketches by Russ Braun and John Mcrea
• All of the series covers by Darick Robertson
• And more!
Description of preview: 12 pages (1-12)