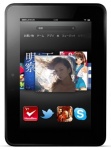 Amazon's Kindle store in Japan, which launches today, will include over 15,000 manga titles at launch. The launch coincides with Amazon's push of the Kindle into Japan, beginning with Kindle Paperwhite. Kindle Fire will be available in Japan beginning in December.
The manga offered for the Kindle in Japan can be read with either full page or panel view.
The wide range of digital manga available in Japan is a far cry from what's available here in the U.S., where Viz, the largest publisher, had about 600 volumes available in digital form in July (see "
The Manga Market, Kids Titles, Replacing 'Shonen Jump'
"), and has about 1000 available now.