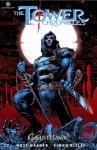 The Tower Chronicles: Geisthawk Vol. 1 TP
Publisher: Legendary Comics LLC
Release Date: October 9, 2012
Price: $7.99
Creator(s): Matt Wagner, Simon Bisley
Format: 72 pgs., Full-Color, Trade Paperback
ISBN: 978-1-9372-7802-1
Age Rating:
ICv2 Ratings: 3 Stars out of 5
John Towner is a professional monster hunter whose methods are as lethal as his motives are mysterious. In The Tower Chronicles: Geisthawk his clients range from an underworld kingpin and the FBI and his targets include a shape changing owl demon, a living ghost and a most unique kind of vampire.
These days the shelves of book sellers are overflowing with every imaginable variety of paranormal exterminator and John Tower is definitely a standard genre character type. The pulps and comics are full of brooding heroes with mysterious pasts, super cool cars and an array of high tech gadgets. But what makes Geisthawk different is its approach to the material.
It places the supernatural into a solidly real world and mostly succeeds at taking it seriously without becoming overly dour; it even manages to come up with a unique twist on vampires I don't believe I've ever seen before. It reads more like a hardcover international thriller than a comic; the only overtly "comic book" touch is Tower's distinctive working clothes which is essentially The Huntsman from Snow White designed by Jim Lee.
And I can't argue with the execution; Matt Wagner's script is absolutely solid and for an artist known for excesses here Simob Bisley's art is remarkably restrained. This is something that can be enjoyed by both comic book fans and someone who's never read one.
--Steve Bennett: Writer and retail services consultant.