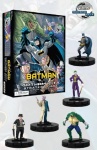 WizKids will introduce a new mechanic, SwitchClix, with the release of Batman: Gotham City Strategy Game in February. The game includes two sets of HeroClix dials; figures can be switched between two different types of dials. WizKids Marketing and Product Coordinator Scott D'Agostino explained how they're used. "The first set of HeroClix dials are optimized for the ruleset of the boxed BGCSG game and the second set of dials is optimized for the tactical tabletop miniatures game that uses the Powers and Abilities Card (PAC)," he said. "The SwitchClix technology allows us to deliver two play experiences using both of these HeroClix systems and does not constrain design or playability. In effect, you get two HeroClix games with one purchase."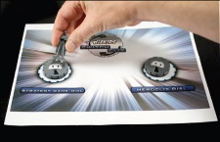 Players play as one of four iconic Batman villains who deploy their henchmen and threats throughout Gotham City. Villains can be leveled up and gain new abilities.

WizKids is expecting the release to perform with initial high demand like a HeroClix release, with a longer tail typical of a board game release.