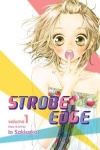 Strobe Edge Vol. 1 (Manga)
Publisher: Viz Media
Release Date: November 6, 2012
Price: $9.99
Creator: Io Sakisaka
Format: 200 pgs., Black & White, Trade Paperback
ISBN: 978-1-4215-5068-8
Age Rating: Teen
ICv2 Rating: 3 stars out of 5
Ninako is a typical high school girl who doesn't really know how to think for herself yet. She takes things at face value most of the time and doesn't know what love or 'liking someone' really means yet. This is why when her friends at school tell her that she's 'in love' with her childhood friend Daiki she automatically thinks that she is. That is until she has a chance encounter with the school celebrity, Ren, and suddenly her world is changed entirely.
There are so many things Strobe Edge does right that it's hard to know where to begin. To start with, everything about this book is simple. The artwork, the cast of characters, the story, it's all just so simple to pick up and follow. There are no needlessly confusing plot lines, the character designs all stand apart from one another, the artwork is basic and lovely and the motivations behind each character are crystal clear. Nothing about this book should confuse anyone in the audience no matter what age they are.
The catch here is that, like many shoujo manga, the plot of this first book is ridiculously predictable. From page one, it's fairly obvious what direction the story is going to go. Interestingly enough though, I didn't mind that one bit as I kept turning the pages and getting to know these characters more and more.
Even as one chapter ended and I was able to predict what was going to happen next, Strobe Edge continued to keep my attention and my enjoyment of what was happening never waned simply because the emotion behind the words felt so honest and nostalgic.
This is a book that does a great job of capturing that feeling of falling in love for the first time while being caught between two people: the one you should love and the one you know you shouldn't love. It's a feeling that many of us have experienced in our life and through these pages and Ninako's eyes, we get to experience that sometimes very painful but sometimes very rewarding feeling all over again.
While aimed at teenagers, there is enough emotional impact within these chapters that adults should find themselves enjoying themselves just as much. Even if you know what's going to happen, Strobe Edge is a fun book to sit back and get lost in. Recommended.
-- L.B. Bryant