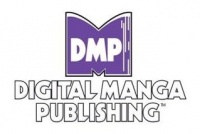 Digital Manga President Hikaru Sasahara has announced that print releases for the company's DMP, June Manga, DokiDoki and 801 Media imprints will be placed on hiatus effective January 2013 until June. The step is being taken "to coordinate our production schedule for 2013 and temporarily shift our focus to our digital publications," he said.
Digital Manga had been releasing four to five releases a month during the hiatus period, which although announced as beginning in January, lists titles originally scheduled to ship in December.
Sasahara said that no licenses had been canceled, but were "simply postponed." Print releases will resume in June.