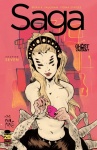 Alan Moore will personalize copies of his graphic novels From Hell, Lost Girls, Mirror of Love, and Voice of the Fire to donors of the Comic Book Legal Defense Fund as part of the Fund's Spirit of Giving fundraising campaign, which runs for the next few weeks. In addition to a huge list of premiums available with donations (like the personalized Moore graphic novels), the Will & Ann Eisner Family Foundation will make a contribution of $2 for every donation and gift order placed by December 12th, and $10 for each new membership and $5 for every renewing membership until December 31st.
Other creators that will personalize their creations for CBLDF donors during the campaign include Jason Aaron, Chris Burnham, Cliff Chiang, Howard Cruse, Evan Dorkin, Rebekah Isaacs, Chip Kidd, Paul Levitz, Larry Marder, Terry Moore, Dave Roman, Jeff Smith, Raina Telgemeier, Brian K. Vaughan, and Brian Wood.
Other donation premiums include books and prints signed by such superstars as George R.R. Martin, Neil Gaiman, Daniel Clowes, Paul Pope, Brian Lee O'Malley, and others.
And just in, the rare
Saga
#7 Paul Pope "Ghost Variant, available with a $25 donation. The cover is by Pope with colors by series artist Fiona Staples.
Donations to the Comic Book Legal Defense Fund, and the exciting premiums that go with them, can be found at
CBLDF.org
.