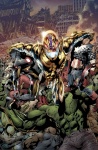 Marvel will launch Age of Ultron, a major universe-spanning crossover event, next March. The event will be on the scale of Infinity Gauntlet, Secret Invasion, and Civil War, according to the company, with wide-ranging effects.
The core series,
Age of Ultron
, is written by Brian Michael Bendis with art by Bryan Hitch (who's been done with his work on the series since spring, see "
Hitch Goes to Image
") on the first five issues, and Carlos Pacheco & Brandon Peterson on issues six through ten. Getting issues done in advance of release is important, because all ten issues will ship between March and June. The first three issues will ship in March.
The storyline was introduced in Marvel's Free Comic Book Day Comic for 2012, The Avengers: Age of Ultron #0.1, by Bendis and Hitch.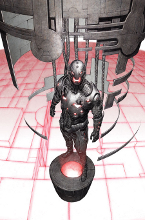 Ultron has enslaved most of the world's superheroes as the series opens, and only a small group remains, including Invisible Woman, Taskmaster, Beast, Emma Frost, She-Hulk, Luke Cage, Spider-Man, Wolverine and Moon Knight, to battle the deadly sentient robot.