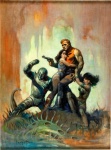 The original art for a Frank Frazetta paperback cover sold for $262,900 at the recently completed Heritage Vintage Comics and Comic Art Signature Auction: the first Calvin & Hobbes Sunday strip original ever auctioned topped $203,000; and the art for a Carmine Infantino Flash cover sold for over $167,000.
The Frazetta oil was the art for a Popular Library paperback published in 1968, The Solar Invasion, by Manley Wade Wellman.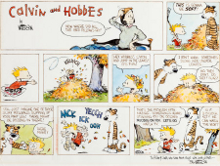 A Bill Watterson
Calvin & Hobbes
hand-colored original for the Sunday strip for November 19, 1986, the first Watterson strip original ever auctioned, set a world record price for strip art of $203,150. The piece was a gift to fellow cartoonist Brian Basset, who sold it after holding it for many years.