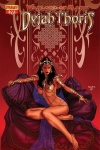 Warlord of Mars: Dejah Thoris #19
Publisher: Dynamite Entertainment
Release Date: December 5, 2012
Cover Price: $3.99
Writer: Robert Place Napton
Artist: Debora Carita
Cover(s): Paul Renaud (50%) and Fabian Neves (50%)
Format: 32 pgs., Full-Color
Rating: Mature
The concluding chapter of the "VAMPIRE MEN FROM SATURN." Dejah remains trapped on the ringed world with the Vampire Men who are about to launch their invasion of Mars. She hatches a desperate plan, but will her blood be tainted, converting her into a Vampire Woman before she can save her beloved home world?!
Fans, ask your retailer for these variant incentive covers!
• RENAUD "Martian red art" cover retailer incentive.
• RISQUÉ ART cover retailer incentive.
Description of preview: 5 pages (1-5)