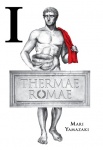 Thermae Romae Vol. 1 HC (Manga)
Publisher: Yen Press
Release Date: November 2012
Price: $34.99
Creator: Mari Yamazaki
Format: 368 pgs.; Black & White; 10" x 7" Hardcover
ISBN: 978-0-3162-2919-7
Age Rating: Older Teen
ICv2 Rating: 3.5 Stars out of 5
This book is remarkable on many levels, the first of which is the premise. A bath architect in ancient Rome comes unstuck in time, and keeps bouncing back and forth between his own time and place and modern Japan. The connection is the culture of bathing in the two times and places, and each time he appears in a different kind of bath setting, ranging from traditional bathhouses to a plumbing supply company. The artwork is outstanding, and the book contains a vast quantity of information about the bath customs of both cultures. One entire chapter is devoted to the parallel developments of phallus magic in Rome and Japan, in relation to sex and fertility. Unfortunately, this chapter may create problems in terms of offering the book to minors, and the full frontal nudity on the book's back cover [covered up by an overlay, but still there] might cause some parents to get very upset. The story isn't really written for teens, anyway, but other than chapter 6, there is only non-sexual nudity as an issue for most readers.
The book's only weakness is the repetitive nature of the story, and the way that each time the architect is presented with a problem in ancient Rome, he accidentally gets sent through space and time, each accident less and less convincing. In order to enjoy the story, the reader eventually has to ignore this mechanism.
The high price is due to the large format and hard binding, on nice paper. This is a manga to hand to your adult friends who enjoy classical art but think they would not enjoy manga.
--Nick Smith: Librarian Technician, Community Services, for the Pasadena Public Library in California.