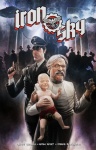 IDW Publishing, in conjunction with Hazmat Studios and Blind Spot Pictures, is producing an official Iron Sky movie tie-in graphic novel, scheduled to appear in comic shops in March.
Written by Mikko Rautalahti (Alan Wake), the story is a prequel to the Finnish/German/Australian sci-fi film and uses humor and steampunk sensibilities to tell the tale of a battle against the Nazis, who fled to the moon after World War II. In addition, it relates to readers how Wolfgang Kortzfleisch became Der Uberfuhrer.
Drawn and colored by Gerry Kissell and Amin Amat, who worked on
Code Word: Geronimo
(see "
'Code Word: Geronimo'
"),
Iron Sky
will be 104 pages in length and include original pin-up art by Miguel Angel Abad (
Planet of the Apes
) and Darren Douglas (
Golden Compass
), along with 33 pages of behind-the-scenes bonus material written by the film's director, Timo Vuorensola.
--Brett Weiss