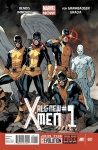 Sales of comics and graphic novels to comic stores were down 1.1% vs. 2011, but were up when the fact that November 2011 was a five week month and November 2012 was a four week month is taken into account. Year over year comic sales were up 3.55%; graphic novel sales were down 10.86% to make up the slight decline (without accounting for the difference in weeks) over-all.
Year to date sales are still up 14.63% over 2011, with almost identical growth in both the comics and graphic novel portions of the market.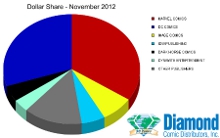 Marvel led in Market share, with 34% vs. DC's 30%, driven primarily by Marvel NOW! books. Marvel had eight of the top ten comic titles in November, led by
All New X-Men
#1 in the top slot. Batman was #2, but the next six titles were all Marvel NOW! titles (
Captain America, Deadpool, Indestructible Hulk, Iron Man, Fantastic Four, Uncanny Avengers
), followed by
Justice League
and
Thor: God of Thunder
.
The Walking Dead Vol. 17 TP was the top graphic novel title in November. The TV series was drawing around 10 million viewers an episode that month, which certainly helped drive sales.