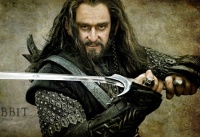 The latest (and perhaps the last) clip to be released from Peter Jackson's The Hobbit: An Unexpected Journey features a musical number. In the newly released clip Thorin Oakenshield and his dwarf companions singing a chorus of the mournful "Over the Misty Mountains Cold," while Bilbo and Gandalf watch the somber .event well aware of the dangers that await them.
As the December 14th release date for Peter Jackson's
The Hobbit: An Unexpected Journey
approached Warners has released a number of clips including one in which Bilbo shows off his swordsmanship (see "
Sword-Wielding Bilbo in New 'Hobbit' Spot
").