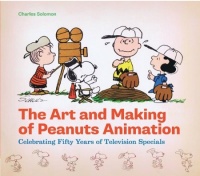 The Art and Making of Peanuts Animation: Celebrating Fifty Years of Television Specials HC
Publisher: Chronicle Books
Release Date: December 2012
Price: $45.00
Author: Charles Solomon
Format: 193 pgs., Full-Color, Hardcover
ISBN: 9-781-4521-1091-2
Age Rating: All Ages
ICv2 Rating: 5 out of 5
For fifty years, generations of children, their parents, and even their grandparents have shared in the cultural phenomenon enveloping the Peanuts comic strip and the related animated films and holiday specials. For many a beacon of the impending arrival of the holiday season, It's the Great Pumpkin, Charlie Brown ignites a near fever pitch in the hearts of children from collecting candy on Halloween and the long march thereafter to the Christmas season. Now, animation historian and critic Charles Solomon has produced a beautifully-illustrated chronicle of how Peanuts leapt from the newspaper pages and onto the television sets of millions of adoring fans.
Although academic investigations into comic strip and comic book histories have been emerging within the past ten years, the majority of studies about sequential art have been produced by industry insiders and largely target commercial, popular audiences. Oftentimes limited to publisher or character histories, these monographs, while entertaining and lavishly adorned with crisp art reproductions, are primarily encyclopedic in coverage, lacking critical insight and more importantly, contextualization within the time period, the medium itself, and beyond. Solomon's The Art and Making of Peanuts Animation is a welcomed divergence from this trend and thus will be appreciated by Peanuts fans and scholars alike.
Following a Foreword by Lee Mendelson, executive producer on every Peanuts feature from 1963 to 2010, Solomon paints the rich and detailed history of how Peanuts made the move from weekly feature to television special. From forging the partnership between Charles Schulz, Bill Melendez, and Mendelson, as well as the early years of developing a viable animated adaptation that not only pleased Schulz but also the network, Solomon provides detailed background on the team and creators, the selection of voice talent, and the introduction of the now infamous Vince Guaraldi "Linus and Lucy" theme and related score into the Peanuts universe.
More importantly, however, is Solomon's incorporation of insights and commentaries not only from Schulz's contemporaries and those who worked on the specials, but also modern animators on The Simpsons, Phineas and Ferb, Finding Nemo, and a variety of other noteworthy productions on the legacy and impact of the Peanuts programs. Unlike other popular historians, Solomon also contextualizes his work in the animation tradition, i.e. the houses built by Walt Disney, Warner Brothers, and how Peanuts either built upon or departed from tried and true methodologies in the craft. In fact, in some ways, Peanuts even introduced some new innovations and Solomon's discussion of character mobility and the structures of Schulz's figures, as well as the design and color features of 1969's A Boy Named Charlie Brown are noteworthy.
Although Solomon only devotes about a quarter of the book to these histories, the remainder is not a disappointment as he includes production cels, preliminary sketches and designs, script pages and rewrites, storyboards, color tests, and a host of other features of the animation process to round out his study. These illustrations, inter-spliced with image summaries and descriptions, as well as comments from designers, producers, and animators, make for a beautiful archive of Peanuts animation history.

--Nathan Wilson