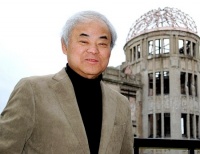 Keiji Nakazawa, creator of
Barefoot Gen
, has passed away, according to Asahi, via
Anime News Network
.
Barefoot Gen
is important not only because of its content, which tells the story of the bombing of Hiroshima, but because it may have been the first manga published in English in the United States. The work resonated with the anti-military vibe in the post-Vietnam 70s; it was first published in B&W comic form, then in collected editions.
Nakazawa was uniquely qualified to tell the stories he chose. He was a survivor of the atomic bomb attack on Hiroshima, at the age of six, and lost many of his immediate family.
Last Gasp is the current publisher of the series (see "
Last Gasp Readies New Edition of 'Barefoot Gen'
").