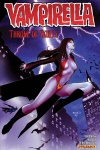 Vampirella Vol. 3: Throne of Skulls' TP
Publisher: Dynamite Entertainment
Release Date: January 2, 2013
Cover Price: $29.99
Writer: Eric Trautmann
Artists: Jose Malaga, Patrick Berkenkotter
Cover: Paul Renaud
Format: 256 pgs., Full-Color, Trade Paperback
Rating: Teen+
A mysterious hijacking--by an undetectable force which leaves only death in its wake--lures Vampirella to Russia, and deeper into a deadly conspiracy where nothing is what it seems. At the request of Vampirella's allies--the Vatican's paranormal covert strike force, Cestus Dei--the blood-drinking scourge of the supernatural travels to Russia, on the hunt for a terrifying killer with a gift for murder. But there's more at play than a simple search-and-destroy mission. Complicating matters is the return of the King of the Vampires, Dracula--more powerful than ever before, and determined to consecrate an unholy pact with ancient, unknowable forces that even the lords of Chaos and Order wisely fear. War is on the horizon, and only one who has worn the Crown of Worms can sit upon a Throne of Skulls. Old foes are reborn, alliances are broken, and nothing in Vampirella's world will ever be the same!
COLLECTION FEATURES:
• Issues twelve through twenty of the critically-acclaimed series by Eric Trautmann, Jose Malaga and Patrick Berkenkotter.
• Complete cover gallery featuring the art of Alex Ross, Paul Renaud, Lucio Parrillo, Alé Garza, Fabiano Neves and more!
"Vampirella (is) definitely very accessible and a lot of fun to read."--Fandom Post

"This is an interesting, dramatic book running along a horror theme with some really nice art (I really like the wings). Good show all around." --Fellowship of the Geek

"Long time readers of Vampirella will not be disappointed... and new comers will enjoy it as well."--One Geek Nation
Description of preview: 5 pages (5-16)