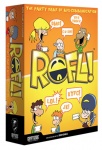 Cryptozoic Entertainment has teamed up with fan-favorite artist and game developer John Kovalic to create a new party game inspired by short electronic messages and the confusion they can create. Called ROFL!, the new game is schedule to release in Spring, 2013.
In a press release, Cryptozoic's Chief Operating Officer Scott Gaeta describes the inspiration for the game: "Between texting and instant messaging, people are always condensing words and phrases. ROFL! is perfect for today, because it takes what we already do and turns it into a hilarious and competitive game."
During the game, the "Guesser" must attempt to decipher a secret message drawn from a deck of 170 phrase cards. The other players must attempt to communicate the message using as few characters as possible by writing on the game's (included) dry erase boards.
ROFL! will be illustrated by Kovalic, who also designed the game. Kovalic is best known for his work on Apples to Apples and as illustrator for Munchkin. ROFL! is intended for three to seven players, ages 12 and up. The suggested retail price will be $35.00.