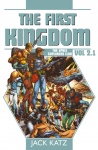 Titan Publishing has announced that a new imprint, Titan Comics, will specialize in creator-owned series by new and veteran talent, as well as new and "classic" graphic novels. Titan Comics launches in July with "never-before-published volumes in a complete library" of The First Kingdom, the post-holocaust fantasy by Inkpot Award winner Jack Katz.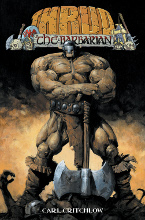 Also in July is new series
Thrud The Barbarian,
by writer/artist Carl Critchlow (
2000AD
,
Magic: The Gathering
). Critchlow created Thrud, a Conan parody character, in 1981.
Thrud
strips ran in
White Dwarf
magazine during the 1980s, and in 2002 Chritchlow self-published a series of
Thrud
strips.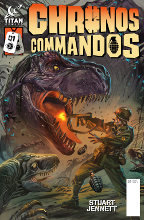 In addition, new series
Chronos Commandos: Dawn Patrol
, by writer/artist Stuart Jennett (
Warheads
), will premiere in July.
July will also see two other collected reprint volumes.
Numbercruncher
(which has been newly colored), is written by Si Spurrier (
X-Men: Legacy
) with art by P.J. Holden (
2000AD
).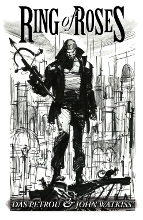 Ring of Roses
(collected in color for the first time), is written by Das Petrou with art by John Watkiss.
Three new series by Titan Comics will launch later this year. In September, look for: Gravestown, written by Roger Gibson with art by Vince Danks (Harker); and Surface Tension, written and drawn by Jay Gunn. In October, Death Sentence by writer Monty Nero and artist Mike Dowling (2000AD, Rex Royd) will hit store shelves.
Each newly released title will launch alongside digital editions for the iPhone, iPad, Web, Android, and Kindle Fire.
Titan has previously published titles such as
Lenore
as Titan Comics (see "
'Lenore' Resumes
"), but is now pulling it out from within Titan Books and positioning the line as creator-owned, perhaps in recognition of the increased profile of creator-owned work last year (see "
Top Ten Comics Business Events of 2012
").
--Brett Weiss