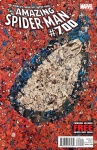 According to figures released today by Diamond Comic Distributors, year-over-year sales of comic books and graphic novels rose substantially in December providing a fitting capstone to an excellent sales year in the direct market (see "
'Walking Dead' Tops 2012 Charts
") in which sales of comics (up 14.94%) and graphic novels (up 14.26%) grew by almost identical percentages. For December the year-over-year sales of comics were up 19.03% and graphic novels grew by 8.25% as the strong sales trends of 2012 continued unabated to the very last days of 2012.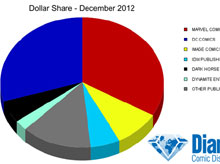 Buoyed by sales of the landmark
Amazing Spider-Man
#700 and the launch of three Marvel NOW! #1s that all made the Top Ten on the comics charts, Marvel Comics maintained the nearly 4% marketshare advantage that it established in November over second place DC Comics. The TV-driven sales of what certainly has to be considered the comic book property of the year, Robert Kirkman's
The Walking Dead
helped Image Comics, which posted the top six graphic novels (and 7 of the top ten), gain a full point and one-half of marketshare, though it should be noted that Image's very successful December was not solely the result of
The Walking Dead
, since a trio of other Image properties,
Chew, Saga
, and
Fatale
also placed in the top 5 on the graphic novel list. IDW Publishing took fourth place followed closely by Dark Horse Comics.
Games sales in the direct market in December reflect the continuing popularity of Whiz Kids' DC HeroClix line, which took the first two spots, while the presence of five board game releases in the top 10 definitely reflects the popularity of board games as holiday gifts.