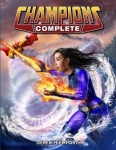 The Champions role-playing game, one of the longest-running superhero games ever, will soon be released as a new core book. Champions Complete has finished printing and will soon be available in both print and digital versions.
Champions has been around for more than 30 years, offering an extremely customizable and "generic" character creation system. The flexibility of the system enables players to create nearly any kind of superhero archetype. Originally published in 1981, the game system embraced ideas that were new at the time, such as a point-buy system for character creation instead of randomly generated abilities. The system continues to weather the years, maintaining a loyal fan base and an almost-legendary status in the hobby.
The latest version of the game, Champions Complete, will be a 240-page softcover book with black and white interiors and a full-color cover by Sam R. Kennedy. The book was written by Derek Hiemforth. This single volume core rulebook will include all of the rules needed to play the game. The suggested retail price will be $40.00. A PDF version will also be available for $20.00.
Champions Complete replaces the earlier Hero System 6th Edition: Character Creation, Combat & Adventuring, and Basic Rulebook, as well as the Champions 6th Edition rulebook. Champions Complete is fully compatible with all sixth edition Hero System products. Hero Games currently has no plans to reprint the earlier volumes.