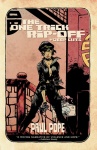 One Trick Rip-Off/Deep Cuts HC
Publisher: Image Comics
Release Date: January 16, 2013
Price: $29.99
Creator: Paul Pope
Format: 228-pgs., Full-Color, Hardcover
ISBN: 978-1-60706-718-4
Age Rating: Teens, Mature
ICv2 Rating: 4 out of 5 stars
Collecting the original "The One Trick Rip-Off" arc from 1995's Dark Horse Presents #101-112 along with rare and previously unpublished strips, One Trick Rip-Off/Deep Cuts is a 288 page treasure-trove of hard-to- find and never-before-seen Paul Pope work spanning a six-year timeframe. Although Legendary Comics had teased an earlier, colorized re-release of "The One Trick Rip-Off" at the 2011 New York Comic Con for a Spring 2012 publication, nothing manifested. Pope's connection to Legendary through Editor-in-Chief Bob Schreck (who edited the original Dark Horse Presents) as well as the promised Legendary edition of 2007's PulpHope only increased fans' desire for the re-issue. Yet, Image Comics has delivered and readers will not be disappointed.
Unlike the original series, this new collection has been colored by Jamie Grant (We3, All-Star Superman, CLiNT) and Dominic Regan (A1, Trident, Omega Men, Infinity Inc, All-Star Western), with additional color and lettering work by Jared K. Fletcher (Wonder Woman, Detective Comics, Animal Man, American Vampire). While newcomers to Pope's work will appreciate the availability of these comics, core fans of Pope's black and white originals may question the decision to color this anthology.
Whereas "The One Trick Rip-Off" finds Pope borrowing a page from Jim Thompson's The Getaway in form, content, and structure, the strip is anything but a simple graphic adaptation as Pope incorporates superpower elements into the traditional crime fiction genre. Several strips have Pope illustrating the poetry of Rimbaud, Francis Richardson, and others. Yet, audiences witness Pope's potency as the sole creator with "The Visible Man" and "Portrait of a Girl with an Unpronounceable Name" along with his foray into manga with "Super Trouble." Pope's explorations in manga are also seen in "Night Job" and "The Scarf." A diverse collection including several other strips, One Trick traces Pope's evolution in style and format as he hones and shapes his visual storytelling chops.
Apart from Pope's brilliant line art, one of the most impressive features of One Trick is the introduction by Charles Brownstein, Executive Director of the Comic Book Legal Defense Fund. While most graphic novel introductions are crafted by peers or appreciating fans, and thus ring largely celebratory, Brownstein's provides a strong contextualization of Pope's work not only within his larger career, but also against the canvas of comics illustration and cartooning in the early-to-mid 1990s. Incorporating introspective quotes from Pope himself and a chronological breakdown of each story or strip, Brownstein gives audiences as well as publishers a model of how introductions or forewords should be done.
Yet, the failure to address the decision to color Pope's work from Brownstein or Pope himself, as well as the absence of original reproductions for comparison with the colorized versions is odd. Pope's inclusion of test layouts and character studies hints at the vitality and power of the original black and white pages, making it all the more difficult to assess the move for colorization. This does not negate the brilliance of Pope's pages, his impact as a creator, or the value of this edition. Additionally, for the unfamiliar and uninitiated, the colorized strips are stunning. Audiences who know of Pope solely from his company work at DC Comics as well as those who recognize his significance in the medium will find much to celebrate with One Trick.

--Nathan Wilson