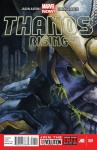 Thanos Rising #1, the first issue of an all-new Marvel NOW! limited series, is releasing in April, the House of Ideas has announced. Written by Jason Aaron (Thor: God Of Thunder) with art by Simone Bianchi (Wolverine), Thanos Rising will reveal the "true origin" of the super powerful Titanian Eternal, telling exactly who he is, where he came from, and whether or not he was born evil.
Thanos, as teased in the closing credits of
The Avengers
, will appear in the forthcoming
Guardians of the Galaxy
feature film (see "
Marvel Confirms 'Guardians of the Galaxy'
"), which is scheduled for release August 1st, 2014.
--Brett Weiss