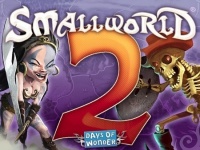 The publishers of digital games based on tabletop games are linking the digital versions to the tabletop versions for a variety of purposes. The most recent announcement along this line was for the Kickstarter for
Small World 2
, a new version of the
Small World
iPad app (see "
'Small World' for iPad
"). The project is to fund the development of a rewrite of the app, but some of the key rewards, including a
Complete Designer Edition
of the
Small World
board game, are tied to the tabletop game. As of this writing, a day or so into the Project, $45,505 of a $190,000 goal has been funded.
Days of Wonder, the publisher of
Small World
, has said in the past that its apps drive sales of the tabletop games as well (see "
15 Million Online 'TTR' Games
").
The recently completed
Pathfinder Online
Kickstarter (raised $1,091,194 of its $1,000,000 goal, see "
$1 Million for 'Pathfinder Online'
") used
Pathfinder Battles
miniatures as rewards for contributors.
And in HeroClix Online this month, previews of figures from the HeroClix Amazing Spider-Man set coming out in February are being revealed on a one a week schedule:

January 10-16: Spider-Man
January 17-23: Zuvembie
January 24-30: Blade
January 31 - February 6: Lizard