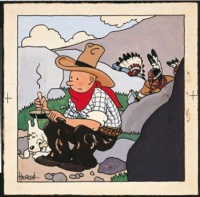 Last December Diamond Comic Distributors announced a program to bring the officially authorized Tintin collectibles produced for Moulinsart in Europe to the U.S. (see "Diamond Inks Agreement for 'Tintin' Merchandise"). Jon Nelson, Moulinsart's representative here in the U.S. explained the business strategy, opportunities, and methods that the company has employed to become a powerhouse in the world of licensed comic book merchandise. As readers of this interview will see, Moulinsart is much more than just a licensing bureau.
What's the current status of any media licenses for the Tintin property in the U.S., for either film or television, and what are the prospects for the future?
Peter Jackson has reconfirmed his intention to film Tintin 2 during the post production for the Hobbit 2. The Belgian RTBF media network was the first to report the story. Jackson plans to shoot the performance capture in 2013 with the release of the sequel planned for 2015.
It's a very exciting time for all of us at Moulinsart. We're fortunate to have two of the greatest filmmakers ever collaborating on a series of
Tintin
films. The films bring more visibility to the brand, introducing Hergé's classic
The Adventures of Tintin
to new audiences around the world. We've seen a dramatic increase in interest in
The Adventures of Tintin
in markets like India, Indonesia and here in the United States. There are now nearly 200 stores carrying classic
Tintin
merchandise in the USA and growing, having expanded from less than 10 stores 2 years ago. The United States is now our 6th largest market on Facebook.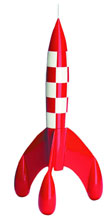 To better service the US market we recently launched a new English-language website and we are working with the US book publisher, Little Brown, to release a number of the books in a new graphic novel format that feature 30 pages of additional material; and, as you know, we recently selected Diamond Comic Distributors as our exclusive distributor of
The Adventures of Tintin
merchandise to specialty stores (remember that the merchandise licensing from Paramount Consumer Products exclusively targets young children. The merchandise program in partnership with Diamond Comics features Hergé's classic characters and is primarily designed for fans of all ages and collectors). Finally, we're negotiating partnerships with a few leading App developers, with a view to creating and launching one or more classic
Tintin
game Apps in 2013.
What's the scope of Tintin licensing in its home markets? Roughly how many products are currently available, in what categories?

Moulinsart holds exclusive exploitation rights relative to the work of Hergé, and it is important and required for any person or company wishing to use elements from the work of Hergé to approach Moulinsart for authorization. That said, Moulinsart has not granted a license for more than ten years! And yet we have a catalog of over 1,000 products in diverse categories such as apparel, toys and games, office stationery, collectibles, kitchenware and books. We add an average of 25 new product lines to the catalog each year.
Could you explain your company's basic strategy?

There are several strands to Moulinsart's commercial strategy, and they do not all involve licensing. The team working in the "departement objets" (objects department) in Brussels directly controls every aspect of product development, from the initial concept through to the finished article. Graphic design work is not outsourced; everything is managed by Moulinsart's own graphic design department. Distribution is managed from Moulinsart's Brussels warehouse.
Does Moulinsart rely on the over-all popularity of the Tintin stories to drive its commercial activities, or does it utilize any sub-brands or themes around which to anchor products for new seasons?
There is no doubt that the
Tintin
books themselves are the cornerstone from which everything else proceeds, and research shows us that shops that have the
Tintin
books on display (Moulinsart distributes merchandise to a large number of comic stores and bookshops) sell more
Tintin
products. [Comic stores in Europe have benefited from the sale of
Tintin
merchandise for many years]. And certain products created by the commercial department can of course be conceived as seasonal products (summer and winter clothing, for example). Partnerships also play a key role.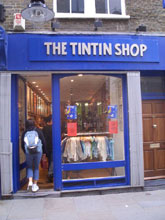 Commemorative postage stamps are created by post offices all over the World, and Belgium is no exception; using pictures of Belgium's greatest hero ensures a popular campaign. The Delacre confectioners partnership has developed over many years, with new biscuit tin designs coming out every year. To mark the release of the Steven Spielberg film
The Adventures of Tintin: The Secret of the Unicorn
, Moulinsart collaborated with the French publisher Hachette on the development of a part-works series to build a model of the seventeenth century warship the Unicorn. With
Tintin's
great appeal in Europe, quality opportunities for new products and ranges are not in short supply.
With no new stories coming out, how does Moulinsart keep the licensing program fresh?

It is true that there are no new
Tintin
stories coming out. This is out of respect for Hergé's final wish, that the series of 24 albums he began in 1929 would not be continued after he passed away. So how does Moulinsart keep its commercial program fresh? We could again consider the question from the perspective of direct commercial activities, but it is also useful to take a step back and look at cultural activities that help to foster an environment of continued appreciation of
Tintin
and the world of Hergé.
Moulinsart and the Studios Hergé, the non-profit organization charged with preserving and promoting the work of Hergé, were commissioned by the Belgian Railway Company to decorate two key Brussels railway stations -- the Gare du Midi (Eurostar terminal) and the Gare du Luxembourg (at the heart of the European Commission) -- with gigantic blow ups of Hergé's drawings. An iconic pen and ink drawing from the story
Tintin in America
has been turned into an immense fresco measuring 8 m x 8 m, at the Gare du Midi.
Tintin's
status as an icon across Europe continues to be celebrated at these key hubs of international transport.
The Studios Hergé works closely with the Hergé Museum (opened June 2009), a bold and strikingly beautiful piece of architecture designed by the world class architect Christian de Portzamparc. The Hergé Museum, located half an hour from Brussels in the university town of Louvain-la-Neuve, bears testimony to one of the greatest comic strip authors of all time and further immortalizes his incredibly rich legacy.
But in the end, the popularity of Tintin is self-perpetuating. Over the past decade auction houses in France and Belgium have reported record sales figures for Tintin collectibles, from the collectible merchandise produced by Moulinsart today to the original artwork created by Hergé during his career. Although Moulinsart has partnered with French auctioneers Piasa to host some important sales of Hergé and Tintin memorabilia, obviously the market is not controlled by Moulinsart. And if the results of these sales continue to skyrocket, it can only be because of one thing: the enduring popularity of Hergé's star character, the brave reporter Tintin!

In conclusion, while Tintin maintains an enormous level of popularity worldwide, with more than 300 million books sold in over 100 languages and with nearly 1 million Facebook fans, the Tintin stories and products are new to much of the US audience. Although Tintin has a deep and storied history in Europe, his adventures are just now becoming known to the contemporary US audience. With limited exception, we believe that the worldwide tales of travel and adventure, that so effectively and dynamically present the cultural differences of peoples around the world, are very appealing to the culture of the USA -- one that embraces those same kinds of differences.