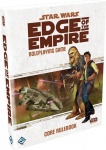 Fantasy Flight Games is preparing the 448-page Star Wars: Edge of Empire Core Rulebook (MSRP $59.95) for an April release. This massive full color volume includes everything that players and GMs need to start role-playing the in Star Wars universe. To make things especially interesting this volume focuses on the fringes of the Empire in areas like the Outer Rim where morality is gray and there is no rule of law or moral certainty.
While this volume is rich in detail for the worlds its describes, the new rules for the Star Wars RPG are quite concise, making the creation of characters and their advancement quick and simple. But there is a ton of very useful background information to so that players and GMs can create richly detailed adventures. Plus there is a complete introductory adventure to get things going and to help even the most inexperienced players get accustomed to this fast-paced RPG.
FFG has taken the most popular features from the mechanics of its
Warhammer Fantasy RPG
and further refined them for this new
Star Wars RPG
. For an in-depth look at the mechanics, timing, and strategy involved in the launch see ICv2's interview with FFG VP Steve Horvath on the company's new
'Star Wars RPG'
.
In addition to the core rulebook FFG is also releasing the
Star Wars: Edge of Empire Role-Playing Game Master's Kit
(MSRP $19.95), which includes a Game Master's screen, plenty of useful tips for GMs as well as an adventure that GMs can use to take players beyond the events in the introductory adventure included in the
Core Rulebook
.
The third Star Wars RPG item due in April is the Star Wars: Edge of Empire RPG Roleplay Dice (MSRP $14.95), which includes a complete set of 14 custom dice specifically designed for the Star Wars RPG.