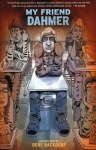 The Young Adult Library Services Association has released its annual list of Great Graphic Novels for Teens, and as usual the group has created a very strong honor roll of 55 titles that encompass the best graphic novels from both mainstream and independent publishers that were published during 2012. The list includes non-fiction titles as well as manga and representative volumes from nearly every active genre of comics. The group also released a "Top Ten" list of titles, the best of the best, "that exemplify the quality and range of graphic novels appropriate for teen audiences."
The YALSA 2012 Top Ten List is:
My Friend Dahmer (Abrams)
Trinity: A Graphic History of the First Atom Bomb (Hill and Wang/FSG)
Anne Sullivan and the Trials of Helen Keller (Disney/Hyperion)
Ultimate Comics Spider-Man Vol. 1 (Marvel)
Friends With Boys (First Second)
A Flight of Angels (Vertigo)
The Silence of Our Friends (First Second)'
Stargazing Dog (NBM)
Drama (Scholastic)
Daredevil Vol.1 (Marvel)
For a complete list of all 55 Great Graphic Novels for Teens click
here
.