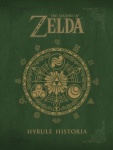 Dark Horse's latest video game art book, The Legend of Zelda: Hyrule Historia soared to the top the Nielsen BookScan chart last week, meaning it is the number one book in America, not just the number one book from a graphic novel publisher, but the bestselling book in any category.
Dark Horse has announced that the initial print run for The Legend of Zelda volume has reached 400,000 copies. The volume includes never-before-seen concept art as well as historical info about the game's development from those who designed it.
Pre-orders on Amazon for
The Legend of Zelda: Hyrule Historia
were so big that it actually overtook
50 Shades of Gray
(see "
'Zelda's' Bigger Than Sex
").