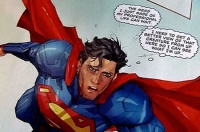 Gay rights organizations are protesting a decision by DC Comics to hire novelist Orson Scott Card to write first chapter of DC's Adventures of Superman digital-first comic book series. Scott, whose 1980s science fiction novel Ender's Game was adapted by Marvel Comics and has been turned into a film starring Harrison Ford that is due out in November, is an outspoken opponent of gay marriage and a board member of the National Organization for Marriage, a group that campaigns against same-sex marriage.
The LGBT advocacy organization Allout has started an
online petition
protesting DC's hiring of Card. At the time of this writing just over 5,200 people have signed the petition, and news of the protest has spread to outlets like the
Huffington Post
and
The Guardian
.
Certainly there is no denying that Card, who denies that he is a homophobe, holds strong views against same sex marriage. In a lengthy editorial in the
Deseret News
Card went so far as to suggest that rebellion is the proper answer to a government that allows gay people to marry, "Because when government is the enemy of marriage, then the people who are actually creating successful marriages have no choice but to change governments by whatever means is made possible or necessary... How long before married people answer the dictators thus: Regardless of law, marriage has only one definition and any government that attempts to change it is my mortal enemy. I will act to destroy that government and bring it down, so it can be replaced with a government that will respect and support marriage."
But not everybody in the comics community is on board with the calls to boycott DC over the hiring of Card.
Bleeding Cool's Rich Johnston
, who is hardly known as a right winger wrote that he found "the idea of campaigning to get a writer fired because you disagreed with his beliefs, however abhorrent, problematic."